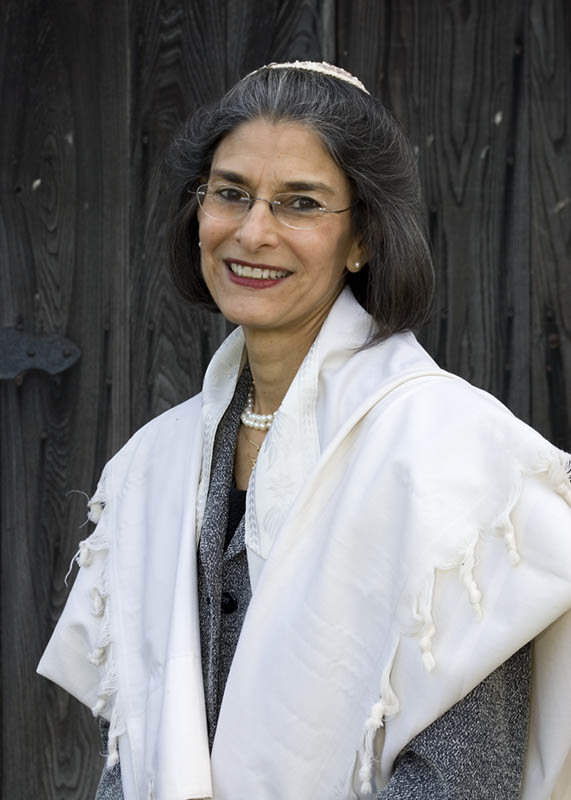 Dr. Janise Poticha accepted the position as Rabbi of Temple Sinai of Massapequa in 1998. Her rabbinate is defined by her love of learning and teaching, Israel, and American and world Jewry. She has created an inviting and warm worship atmosphere where all feel welcome! Before coming to Temple Sinai, Rabbi Poticha was the Hillel Director at both City College and Hunter College (NYC). Then she served four years at Temple Shaaray Tefila of Manhattan.
Exhibiting her enthusiasm for Israel, in 2002 she accepted a position at the Association of Reform Zionists of America (ARZA). Rabbi Poticha took on the role of Director of the initiative "Israel Matters: Our Commitment to Israel". The goal was to educate and engage Reform Jews about Israel. This included traveling to Israel and designing curriculum and advocacy in support of Israel. Creating bridges between Israel and Diaspora Judaism was an important way for Rabbi Poticha to address the need for American Judaism to connect intimately with Israel.
On September 11, 2001, Rabbi Poticha quickly moved to employ her EMS and chaplaincy skills. After working at "ground zero" of the World Trade Center during the initial days of America's tragedy, Rabbi Poticha assisted the City of New York and the American Red Cross establishing Family/Help Centers. She volunteered at St. Paul's Chapel as a First Responder. Rabbi also participated in Memorial Services sponsored by the City of New York. As a certified First Responder and Team Leader for New York Disaster Chaplaincy Service, she is passionate about volunteer chaplaincy.
Before fulfilling her calling to the rabbinate, Rabbi Poticha was a Landscape Architect. Compelled by a desire to explore her Jewish heritage and connect with Israel, Rabbi Poticha lived and worked in Israel for more than four years. After living on kibbutz and completing an IDF army program, she accepted a position as Landscape Architect with a prominent landscape architectural firm in Tel Aviv. Deeply moved by her spiritual, physical, and intellectual connection to the history, the land and the people of Israel, Rabbi Poticha began her rabbinical studies.
Rabbi Poticha received her Master of Arts in Hebrew Literature in 1991. This was followed by Rabbinic Ordination in 1992 from Hebrew Union College-Jewish Institute of Religion.
With an interest in interfaith and inter-denominational study and learning, Rabbi Poticha studies with scholars and clergy of Jewish and other faith traditions. She sits

on boards of various inter-faith

and environmental organizations. Rabbi has participated in local, national, and international inter-faith dialogues. She is a member of the Board of Governor's of the New York Board of Rabbis and the Long Island Interfaith Clergy Coalition. Rabbi is also an intern Fellow with GreenFaith, an interfaith environmental coalition. She is deeply committed to these efforts, in addition to sharing her love and enjoyment of Judaism with others. Rabbi Poticha offers her professional officiation for ceremonies of both sorrow and joy.
An avid traveler, she spent time in Egypt, Hong Kong, Africa, Eastern and Western Europe, and lived in Israel. Rabbi Poticha takes great pride marching in the annual "Celebrate Israel" parade in Manhattan with members of Temple Sinai. She also enjoys a good Talmudic debate, joyous simchas, and almost all outdoor activities, including golf and cycling. Rabbi Poticha is also an avid art collector and enjoys antiquing and flea markets.
Temple Sinai celebrates with our Rabbi as she was selected one of the Town of Oyster Bay's Distinguished Woman Award.
Distinguished Woman in Government: Rabbi Janise Poticha of Massapequa.
Although she fits into a multitude of categories, Rabbi Janise Poticha was selected for the government category for her great work with local government to help others.
Following the events of September 11, 2001, Rabbi Janise moved quickly to employ her EMA and chaplaincy skills. After working at 'Ground Zero' of the World Trade Center during the initial days of the tragedy, she assisted the City of New York and the American Red Cross in establishing family/help centers. She also volunteered at St. Paul's Cathedral as a First Responder and participated in the city's memorial services.
Most recently, following the events of Hurricane Sandy, Rabbi Janise worked with Senator Charles Fuschillo's office and Assemblyman Saladino to coordinate a donation drive by Long Island Cares at Temple Sinai to help those in need. She helped local families in reaching out to FEMA, was in contact with organizations to help families clean out their flooded homes, and reached countless individuals in need.
Make a donation to Temple Sinai in honor of your loved ones and/or their memory.